The French - 07.03.2017

Revitalised & Relaunched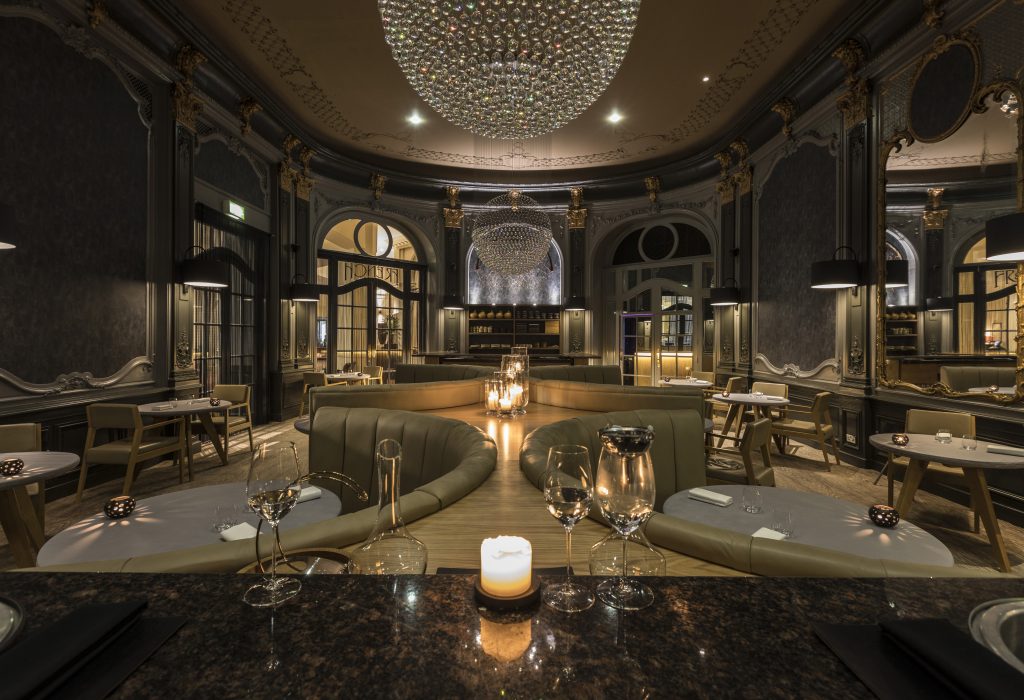 Chef-patron Adam Reid has officially launched Adam Reid at The French, at The Midland Hotel in Manchester, with new menus that display his creative culinary talents
From 14 February 2017, the restaurant will re-open to also reveal a refurbishment that will include a Chefs Counter that will further express Adam's philosophy of engaging the kitchen with the dining room.
Adam joined The French as Head Chef in 2013 when Simon Rogan took on the management contract and re-positioned the restaurant. That agreement with The Midland Hotel and QHotels ended in autumn 2016, and Adam has not only remained at The French but has assumed control of the restaurant business.
The overall refurbishment by Style Contracts meant a fortnight's closure in early February, and has primarily focussed on the addition of the Chefs Counter which was devised by CHR and which serves not only as an additional kitchen preparation space, but also features seven stools for guests to have a drink, dine if they wish (they will be encouraged to have at least one course at the Counter during dinner), and to watch the chefs in action during service. Additionally, the Grade II listed dining room has had a general refresh with new lighting, wall art and paintwork.
Adam's new tasting menus are £85 for the full nine courses (dinner only), or £60/£65 for six courses (marked with *), and are as follows:
Snacks
Prawn cracker; Scallop and pine
Sprouting broccoli Fried in nut oil, cheese and truffle *
Steamed bun Filled with soy cooked trotter and belly, pickled onion *
Artichoke Smoked eel macaroni, hazelnut, chicory
Bacon Hot smoked with hen yolk and squid *
Rouget Shrimp and tomato sauce, burnt gem lettuce *
Salt-aged duck Beetroot, mushroom, pickled cherry juices *
Clementine White chocolate, sea buckthorn
Custard tart Pink rhubarb, ginger and malt ice cream *
Golden Empire Great British Menu 2016 (supplement £20)
At lunch, there is also a 'Small Plates' à la carte menu, offered alongside the shorter tasting menu, allowing guests flexibility of choice, some lighter dishes, and a speedier service, if required, including the option of eating at the Chefs Counter. The à la carte menu is as follows:
Snacks
Cod's roe dip, squid ink wafers £3
Crispy trotter and belly, pickled onion £4
Fried broccoli, cheese and truffle £5
Prawn cracker, spicy tomato £4
Raw scallop, pickled spruce tip £4
Smaller
Saffron pasta, turnip butter, chicken skin £8
Parsnip, mushroom, horseradish, cream £7
Artichoke, smoked eel, hazelnut, chicory £9
Larger
Red mullet, shrimp and tomato sauce, burnt gem £12
Salt aged duck, beetroots, acidic cherry sauce £14
Celeriac and cabbage, tarragon crust, leeks £10
Afters
Selection of British and Irish cheeses £12
Barbecued clementine with white chocolate £6
Pink rhubarb, ginger and malt ice cream £6
Cinnamon sugared doughnuts £4
Golden Apple (Great British Menu 2016) £15
The 180 bin international wine list also features a strong selection of English wines, and there is a broad range of more than 20 options by the glass (from £6), including some specially chosen to match particular dishes. Adam Reid is supported with a strong front-of-house team that includes Restaurant Manager Kamilla Plonska and Head Sommelier Filippo Zito.
The restaurant is open for lunch from Wednesday through Saturday, and dinner from Tuesday through Saturday.
Please note – The menus are available as follows:
Lunch Wednesday-Friday – Six course tasting menu (£60) and Small Plates à la carte menu
Lunch Saturday – Six course menu only (£65)
Dinner Tuesday-Thursday – Six (£65) and nine (£85) course menus
Dinner Friday-Saturday – Nine (£85) course menu only